Apple Cottage in Buckland Court, South Devon
Facilities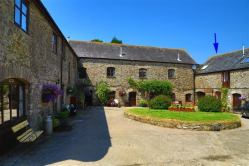 Sleeps 5
3 Bedrooms
Modern kitchen with all new fittings
New multi-media hifi system
New TV and DVD
Wifi
Sky Television
Direct access to the ponds and gardens
Central heating
Modern bathroom with power shower
Apple Cottage, along with the others, was converted from farm buildings belonging to Buckland Farm, in the early 1980s. High quality fittings have been used throughout to bring you comfort and pleasure. The ground floor entrance is right next to the entrance to the one and a half acres of grounds with its two duck ponds, barbecue area (fresh local meat available from the village or delivered) and lots of room for children to play in or for adults to unwind.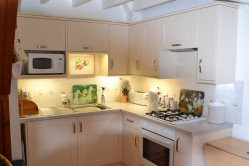 Downstairs there is a home from home fully equipped kitchen with microwave oven, electric oven, gas hob with hood, toaster, kettle and refrigerator with freezer section. The kitchen is fully equipped with crockery and cutlery and all the usual things you find in a kitchen. All equipment is new or nearly new.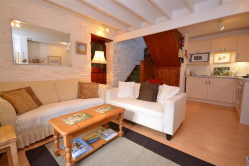 There is a full central heating but in case of a chilly night there is the comfort of a gas fire. The entertainment comes in the form of a large screen TV with a built in DVD player and a library of many DVDs. There is also a new hi-fi with triple CD player, iPod dock and radio. The big sofa bed has a full size pull out double divan. Extra chairs are available under the stairs for busy meal times.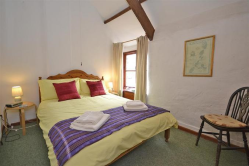 Upstairs at Apple Cottage there is a delightful south looking master bedroom over looking the courtyard with its hanging baskets and magnificent mimosa tree shading a picnic table, an ideal spot to sit outside to have a meal or an evening drink.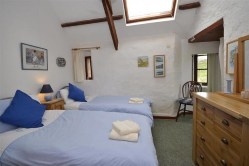 Apple Cottage's second bedroom has twin beds and a magical little window over looking the gardens and the rolling Devon hills.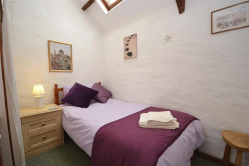 The third bedroom has a single full size bed and is perfect for a child or adult.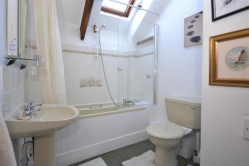 The bathroom has a full size bath with power shower, loo, wash basin, mirror with shaver socket and a large airing cupboard with ironing board, iron and hairdryer; there are spare towels, tea towels blankets etc.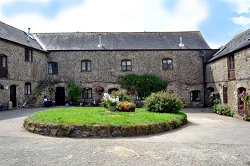 All the upstairs rooms have high ceilings, skylights with blinds and original wooden beams.
All duvets are provided and linen can be hired. There is ample parking and a launderette available. Mobile telephones work here.
The gardens and orchard are at the rear of the cottage through the archway where you will find a BBQ area and three ponds and a lot of room to explore, but please do not enter the stable areas. Keep an eye out when you have young children because of the ponds.